Weight loss surgery in Corpus Christi
If you are struggling with obesity and traditional weight loss methods haven't worked for you, then bariatric surgery might be a solution. Undergoing bariatric surgery can improve your life in many ways, from your health to your emotional well-being. By helping limit food intake and absorption, it allows for the maintenance of long-term, healthy weight loss goals.
The experienced bariatric surgery team at Corpus Christi Medical Center Bay Area is ready to guide you to a healthier and more active life. Start restoring your health and transforming your life today.
Corpus Christi clinical weight loss program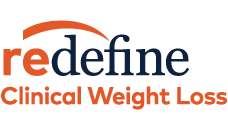 Redefine Clinical Weight Loss, our premier bariatric weight loss program, features a comprehensive treatment program, from pre-surgery counseling and preparation to post-surgery support and education.
We understand this is an emotional journey first. Weight loss begins well before you undergo any physical procedures. This is not just bariatric weight loss surgery, this is a new way to live your life—happier and healthier.
Redefine Clinical Weight Loss provides our patients with:
A multidisciplinary team—Our team includes highly skilled bariatric weight loss surgeons, a dedicated bariatric weight loss coordinator and registered dietitians, who follow each patient's entire journey.
A complete program of ongoing care—From initial evaluation through surgery, we offer a lifetime of support, including patient support groups.
Surgical excellence—Our comprehensive bariatric center has been recognized as a top surgical hospital accredited by the American College of Surgeons as a Metabolic and Bariatric Surgery Accreditation and Quality Improvement Program.
Recognition
---
Corpus Christi Medical Center is a MBSAQIP accredited comprehensive center for metabolic and bariatric surgery.
The weight loss procedures we perform can dramatically improve and control complications from health conditions such as Type 2 diabetes, high cholesterol, blood pressure and sleep apnea. Other benefits of weight loss surgery include:
Decreased risk of heart disease
Increased fertility during childbearing years
Less joint pain
Relief from depression due to improved body image
What is bariatric surgery?
Sometimes diets don't work, and many people fail at traditional methods of weight loss. Excess pounds can threaten a person's health. If they are obese or suffer from an obesity-related condition, they may need to explore other methods.
Bariatric surgery refers to procedures that help a person lose weight by changing how the body digests food. Bay Area's surgical weight loss program specializes in the most effective long-term weight loss techniques, including adjustable gastric banding, gastric bypass, and sleeve gastrectomy.
If you are 100 pounds or more overweight or suffer from serious medical problems such as heart disease, diabetes or sleep apnea, you may be a candidate for weight-loss surgery at Bay Area.
Is weight-loss surgery right for you?
An important determining factor for weight loss surgery is your body mass index (BMI). It's a numerical expression of the ratio of your weight to your height. This number will determine if you're overweight and, if so, by how much.
Your weight loss team will use your BMI and other factors to determine if you're a candidate for weight loss surgery and which option would best suit you.
You might be a candidate if:
Your BMI is 40 or higher
Your BMI is over 35, and you have one or more obesity-related conditions
You are 100 pounds over your ideal weight
Certain physical and emotional conditions can cause an elevated risk of complications. Every patient will undergo a series of physical tests to determine if they are a candidate for surgery. Your team will also examine your medical history to see if any past procedures or issues will elevate your risk.
When a patient meets the medical criteria for morbid obesity, Medicare, HMOs and many private insurance companies may cover surgical weight loss. Your team will work with you and your provider to determine if the costs are covered.
If your insurance doesn't cover the treatment of morbid obesity, financing options are available. If you have questions regarding insurance coverage and benefits, ask your weight loss team. They will be happy to help you explore your options.
Are You a Candidate for Weight Loss Surgery?
Surgical weight loss options
The decision to undergo weight loss surgery will affect you for the rest of your life. Our bariatric surgeons, nurses and staff focus on successful outcomes through methods that are right for you and your reason. Redefine Clinical Weight Loss provides options for weight loss surgery, including minimally invasive robotic techniques resulting in a quicker recovery and shorter hospital stay.
Depending on your condition, your surgeon will help you determine which type of procedure is best for you. Our surgical weight loss options include:
Adjustable gastric band—An inflatable ring is placed around the top portion of the stomach, creating a tiny pouch that restricts food consumption. This restriction allows you to feel full faster.
Gastric bypass—Staples are used to permanently close off part of the stomach, which leaves only a stomach pouch for the food you eat. A Y-shaped piece from an upper portion of the small intestine is then attached to this stomach pouch. As a result, food from your stomach pouch bypasses the intestine's initial section, which generally would absorb calories and nutrients after eating.
Sleeve gastrectomy—A surgeon creates a small, sleeve-shaped stomach that is slightly larger than the pouch made during gastric bypass. This surgery is completed with a small incision and permanently reduces the stomach's size by about 85 percent.
Watch this informational video to learn more about weight loss surgery, the types of surgeries offered and how they can improve your overall health.
Surgical weight loss journey
Your weight loss team will prepare you for what to expect and what to bring for your procedure. Each surgery has its own unique set of operative and postoperative requirements.
Your physician will determine your length of stay. Also, depending on your procedure, you may experience some physical discomfort. Make plans for plenty of rest following your discharge from the hospital.
Post-bariatric surgery
After your procedure, your physician and nursing team will consult with you on a wide variety of issues like pain management, diet and what to expect physically. Each procedure will have its own unique set of expectations, so be sure to ask your team questions to understand them fully.
Once your immediate recovery needs are addressed, your team will walk you through your dietary and exercise expectations to achieve your journey's goal.
Success after surgery: How we help
Undergoing bariatric surgery is a significant life-changing and emotional experience. But this event is also a new beginning. Comprehensive nutritional care and lifestyle changes after surgery are essential to your weight loss success.
You'll discover a new way to navigate your life. Your journey is one of personal discovery and achievement. It goes on as long as you do. So does the support you receive from your weight loss.
Nutrition
Regardless of the surgery performed, your physician, registered dietitian and care team will help construct a healthy, balanced nutrition plan to use after surgery and your journey.
Before the surgery, our team will host a nutrition guidelines class where you learn more specifics about diet and lifestyle changes encouraged for weight loss success. Your surgeon and dietitian will also provide guidance after surgery to ensure you develop sustainable, realistic eating habits.
Lifestyle
After major weight loss surgery, mental and emotional adjustments may occur in how you see yourself and how others see you. Bariatric surgery may signify the beginning of your healing process in those areas. We encourage patients to work with a licensed counselor after surgery to help cope with the emotional and lifestyle changes.
Support groups
After weight loss surgery, the road toward healing is not always easy. At Corpus Christi Medical Center, we provide comprehensive support groups to those who have undergone surgery, focused on assisting with life changes and adjustments.
Our care team is committed to providing patients with compassionate care while helping them achieve personal weight loss goals, providing education and support. We host monthly support groups on the first Tuesday each month from 6:30pm to 7:30pm.
Join us for a free informational seminar
Bay Area offers free seminars for those interested in learning about surgical weight loss procedures. These informative seminars are held at our hospital. They are hosted by one of our bariatric surgeons and usually last two hours.
During this time, the surgeon will discuss the different types of bariatric surgery, the rationale for surgery and the expected outcomes. After the lecture, attendees will have the opportunity to participate in a question-answer session.
Anyone interested in weight loss surgery should bring friends and family to the seminar for support and share in the experience.
Attend a weight loss seminar
Start your weight loss journey by joining us at one of our free seminars to learn more. Contact us via email for more information.
Bariatric surgery locations
Retrieving location data...