The cardiovascular programs at Corpus Christi Medical Center Bay Area and Corpus Christi Medical Center Doctors Regional hospitals provide nationally recognized care to thousands of Coastal Bend residents and surrounding communities.
We put our hearts into caring for yours. Our multidisciplinary team of board-certified cardiologists, cardiovascular surgeons, interventional cardiologists, vascular specialists and cardiac rehabilitation specialists collaborate to provide our patients with the care they need.
Call for a physician referral at (361) 737-0247.
Corpus Christi heart and vascular services
At Corpus Christi Medical Center, we use innovative technologies and specialized programs to prevent, diagnose and treat cardiovascular diseases.
Our heart and vascular teams cover the entire cardiac care continuum, from diagnostic testing and electrophysiology services to open-heart surgery and cardiac rehabilitation. We offer a range of personalized services for various conditions, including heart attacks, heart rhythm disorders, atrial fibrillation (AFib), valve disease, blood clots and heart failure.
Cardiac electrophysiology
An arrhythmia, or irregular heartbeat, occurs when the electrical impulses regulating the pumping of your heart cause it to beat too quickly, too slowly or irregularly. Arrhythmias can cause fainting, heart failure or even sudden death, but we are here to help.
Our cardiac electrophysiologists specialize in diagnosing and treating arrhythmias. Some of the treatments they provide include:
Biventricular and permanent pacemakers
Implantable cardioverter defibrillators
Pacemaker lead extraction
Cardiac emergency care
As an Accredited Chest Pain Center with Primary Percutaneous Coronary Intervention (PCI) and Resuscitation, we are equipped to care for patients who have experienced a heart attack or cardiac event.
A heart attack is an emergent medical condition that can lead to serious damage if it isn't treated quickly. Recognizing the signs of a heart attack could save your life or someone else's life. Seek medical attention immediately if you experience any of the following symptoms:
Cold sweats
Fatigue
Lightheadedness
Nausea
Pain or discomfort in the jaw, neck, back, arm or shoulder
Recurring chest pressure or pain
Shortness of breath
Sudden dizziness
Advanced Chest Pain Center
---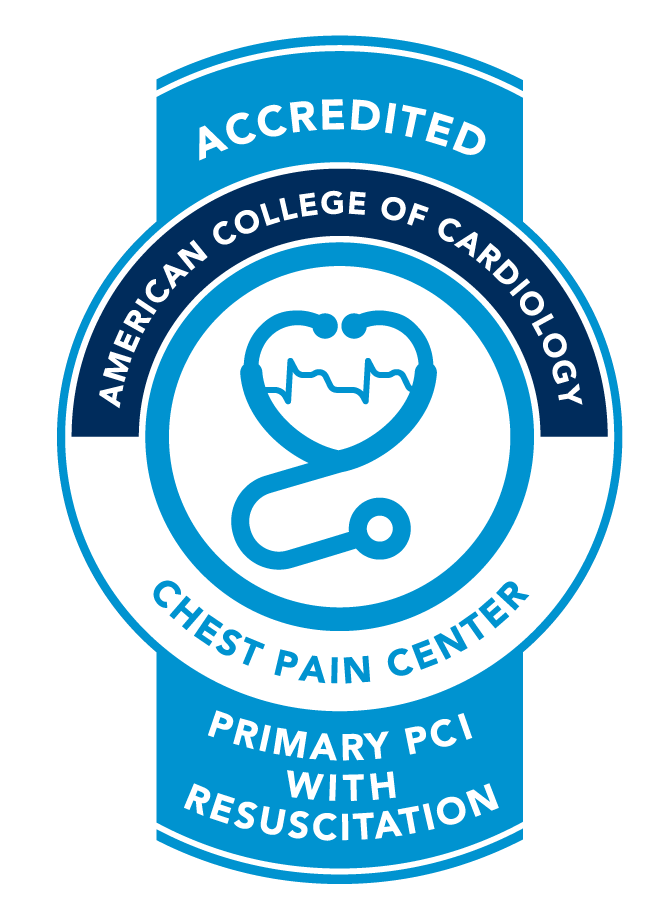 Corpus Christi Medical Center has been accredited by the American College of Cardiology as a Chest Pain Center with Primary PCI and Resuscitation for its implementation of best practices for patients experiencing chest pain or symptoms of a heart attack.
Cardiac rehabilitation
Our hospitals offer inpatient and outpatient cardiac rehabilitation for patients who have suffered a heart attack, have had cardiac surgery or have received a qualifying diagnosis from a physician.
Our cardiac rehab programs are designed to meet your needs and improve your cardiovascular health. Patients participate in supervised exercise sessions and receive nutritional counseling, stress management and education as they work to develop a healthier lifestyle.
Heart and vascular surgery
The vascular surgeons at Corpus Christi Medical Center are especially skilled in the surgical treatment of diseases affecting your body's veins and arteries. We utilize cutting-edge technologies and techniques to care for each patient and their unique needs.
Our surgeons have expertise in minimally invasive procedures, robotic-assisted surgery, endoscopy and catheter-based therapies. Some of the vascular procedures we perform include:
Abdominal aortic aneurysm repair
Aortic arch repair and replacement
Carotid endarterectomy
Deep vein thrombosis
Minimally invasive mitral valve surgery
Stent placement
Surgical thrombectomy to remove blood clots
Whether you are experiencing clogged arteries, cardiac arrest or a damaged heart valve, our team of experts can help you get back on your feet. Don't delay your care. Make an appointment today with one of our cardiologists.
Cardiology locations
Retrieving location data...