Heart and vascular specialists in Corpus Christi
The cardiovascular programs at Corpus Christi Medical Center's Bay Area and Doctors Regional hospitals provide nationally recognized care to thousands of residents in the Coastal Bend and surrounding communities.
Here, we put our hearts into caring for yours. Our exceptional team, innovative technologies and specialized programs aim to prevent, diagnose and treat cardiovascular diseases to ensure the best outcomes for our patients.
To find out more about our services or to talk with a cardiologist, you can schedule an appointment.
Advanced Chest Pain Center
---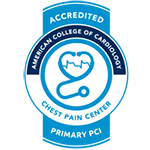 Corpus Christi Medical Center has been accredited by the American College of Cardiology as a Chest Pain Center with Primary Percutaneous Coronary Intervention for its implementation of best practices for patients experiencing chest pain or symptoms of a heart attack.
Our heart and vascular services
We provide numerous diagnostic and surgical services as well as ongoing and interventional cardiac care for most cardiac conditions. These include treatment for heart attacks and heart disease, arrhythmias (including atrial fibrillation, also called AFib), valve disease and replacement, blood clots and heart failure.
Many of our patients may not realize they have heart problems until they arrive in our emergency department after having chest pain or tightness. Our cardiac and vascular programs cover the entire continuum of cardiac care, ranging from diagnostic testing and electrophysiology services to open heart surgery and rehabilitation. All of them are performed right here in Corpus Christi, so patients don't have to leave town for advanced treatment.
Take a free heart risk assessment
Arrhythmia care
An arrhythmia occurs when the electrical impulses that regulate the pumping of your heart don't work well. This can cause your heart to beat too quickly, too slowly or irregularly. It can be caused by congenital (present at birth) abnormalities or may develop over time. It can also be a sign of heart disease.
We specialize in surgical treatment for heart arrhythmias, including the following procedures:
AFib treatment
Biventricular and permanent pacemakers
Pacemaker lead extraction
Internal cardiac defibrillators and diagnostics
Heart attack treatment
A heart attack occurs when blood vessels to the heart become blocked, robbing the heart of the oxygen it needs to function properly. Part of the heart muscle may become damaged or die.
Some of the symptoms of a heart attack include:
Chest pressure or pain
Shortness of breath
Pain in arms, neck, shoulder
Discomfort
Fatigue
Anxiety
Back pain
Cold sweat
Dizziness or lightheadedness
Feeling of fullness
Indigestion
Jaw pain
Nausea
Vomiting
As an Accredited Chest Pain Center, we are equipped to handle patients who have experienced a heart attack and are trained and experienced in treatments such as coronary artery bypass graft surgery, angioplasty and stent placement.
Valve repair and replacement
In some people, the heart's valves, which control the flow of blood throughout the heart muscle, don't work well. The valves can become leaky or may narrow in size, making blood flow more difficult.
Our experienced cardiac surgeons can repair and even replace these valves if needed through several different procedures, including minimally invasive mitral valve surgery.
Vascular surgery
Vascular surgical procedures treat and manage diseases of the arteries and veins, including:
Abdominal aortic aneurysm treatment and stent placement
Aortic arch repair
Blood clot treatment
Carotid endarterectomy (carotid artery surgery)
Deep vein thrombosis
Vascular disease affects your blood flow, which can lead to severe medical issues in other parts of your body if left untreated. Our skilled vascular specialists can find blocked or weakened blood vessels to restore proper circulation and help improve your overall health.
Cardiac rehabilitation
Cardiac rehab works to strengthen your heart function if you have a condition like heart failure, have experienced a heart event or undergone heart surgery. We have both inpatient and outpatient rehab services for our cardiac patients.
Care begins while the patient is still in the hospital, with supervised diet, exercise and monitoring. It then moves to outpatient care as our patients resume their lives but still need some care and supervision.
Cardiology locations
Retrieving location data...