Contact Us
For more information about our program, please contact Cheyenne Silva, program coordinator.
Apply Now
ERAS: 14845770
NRMP: 2110149F0
Welcome from our Program Director
Welcome to HCA Healthcare Corpus Christi Medical Center!
We are an ACGME accredited pulmonary medicine fellowship program located in Corpus Christi, Texas. Our team is dedicated to delivering top patient care and advancing medical knowledge. We currently have over 40 resident physicians practicing in our programs.
Mission Statement
The Corpus Christi Medical Center Pulmonary Disease Fellowship Program's mission is to develop the next generation of physicians and physician leaders. As a part of HCA Healthcare, we are driven by a single mission: Above all else, we are committed to the care and improvement of human life.
This program is designed to offer residents a rewarding, educational environment where residents are provided individualized learning opportunities by faculty and staff who support and sustain one another throughout quality care delivery. Our faculty are committed to ensuring the residents' clinical experience and educational needs are fulfilled while expanding residents' perspectives to be inclusive of cultures, values, and ideals.
Program Overview
The Pulmonary Disease Fellowship Program at Corpus Christi Medical Center is a two-year, ACGME accredited fellowship.
Located on the coast of South Texas.
Corpus Christi Medical Center, an HCA Healthcare affiliate, is made up of 6 hospitals, a 631-bed system offering a full range of health care services.
We currently have over 40 resident physicians practicing in our various programs.
We accept two new residents into our pulmonary fellowship each year.
Candidates must be US citizens or permanent residents as we do not sponsor visas.
Residents have clinic rotations at Pulmonary Associates of Corpus Christi 1 day a week.
Opportunities to rotate with outside facilities such as the University of Texas Health Science Center at San Antonio, TORR Sleep Center, and Driscoll Children's Hospital.
Our program is very focused on scholarly activity and residents have opportunities to present at multiple conferences each year.
Get to Know the Team
Salim Surani, MD
Program Director
---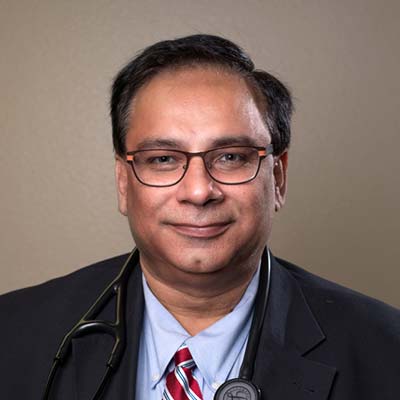 Curriculum and Rotation Schedule
Our expertly crafted programs are designed to provide resident physicians with all the experiences and training necessary for professional success.
Conference Schedule
Friday afternoon didactics
11 a.m: Miscellaneous lecture topics targeted towards ITE low-scoring areas
Noon: Resident Presentation
1 p.m: Board Review
2 p.m: Lecture from subspecialty/resident case presentation
Salary
| Year | Salary |
| --- | --- |
| PGY4 | $58,282 |
| PGY5 | $60,737 |
In addition to this, each resident will receive $950 per year for On-Call meals to be paid half in July and half in January.
New residents will receive up to $500 for orientation as it will fall before your July 1 start date.
Additional benefits include professional memberships, conference and travel expenses, cell phone, laptop, as well as other board prep and educational expenses.
FAQ
Residency candidates must submit their applications through ERAS. AAMC ID: 14845770